Skip to Content
Corporate Gift Packages & Employee Recognition
Full Service Corporate Gifts, Produced, Packaged, and Delivered
Whether it's remembering clients during the holidays, items for an event or marketing campaign, or recognizing employees, Riverside Printing has the products and services to take your ideas from conception to completion. For over 40 years, our concierge approach has helped businesses in Maryland with every step of their Employee and Corporate Gift campaigns. It might be as simple as a holiday card mailing or as complex as a promotional basket with marketing collateral. We will work with you to select the gifts and promotional products that best represent your brand and align with your budget. Then, Riverside will take care of the rest! Unlike the myriad of other companies that might do printing, or clothing, or promotional items, we bring all of those items together under one roof. Combined with our assembly, packaging, and mailing services, we have the unique ability to handle your project from start to finish. With a nearly limitless selection of promotional products, printing options, and clothing choices, we can tailor a solution to help you reach your target audience.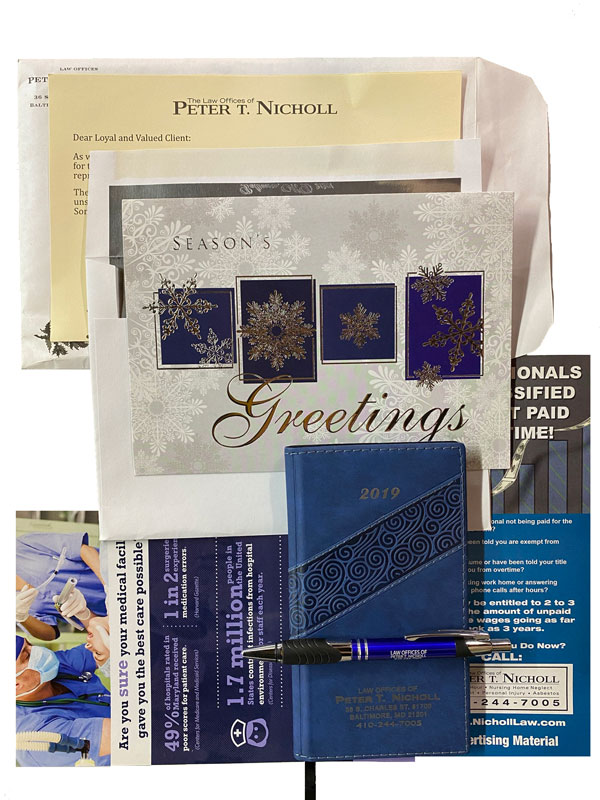 Set Your Organization Apart With Promotional, Holiday, and Client Appreciation Products
Looking for a memorable but cost-effective way to promote your business or a product? It could be for an event, the holidays, to let clients know they matter, or just everyday marketing. Whatever the reason, a thoughtful, useful gift will keep your brand in sight and in mind. Thank you gifts are a great way to make customers feel appreciated and strengthen your relationship. Marketing items are proven winners at getting your brand or product noticed over and over. A holiday card or gift is an incredibly effective way to separate yourself from the competition. No matter what your goal is, we have decades of experience helping businesses put together meaningful, beneficial gift campaigns that fit any budget. Best of all, we will handle all the labor of packaging and mailing the products, saving you the time and stress of managing the project. All you need to provide is the idea and the mailing list. Some popular and successful ideas include:
Holiday & Thank You Cards
Pens
Calendars
Post-it Notes
Note Pads
Tote Bags
Flash Drives
Water Bottles & Mugs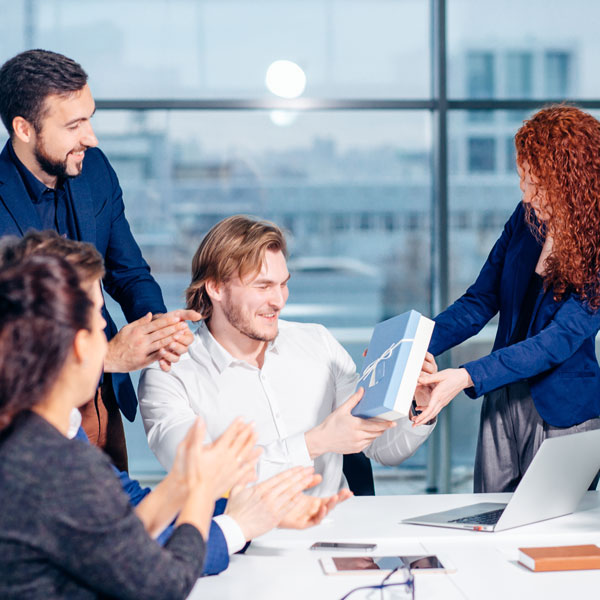 Reward and Retain Your Most Important Assets With Employee Recognition Items
Employees are the driving force behind any business. It's important to recognize their accomplishments and show appreciation. Not only are happy, motivated employees more productive, they are dramatically less likely to consider leaving their current position. Let Riverside help you show your gratitude with corporate gifts and employee recognition items that are sure to make your staff feel valued. We can help you recognize employee anniversaries, job promotions, sales contests, and achievements to show appreciation to the employees that help drive your business forward. From single items like awards or branded clothing to a personalized gift package, our experience and expertise can help you make the biggest impact at an affordable price. Some employee favorites include:
Clothing & Corporate Apparel
Tumblers & Drinkware
Plaques & Awards
Technology Items
Chairs & Blankets
Pet Items
One Point of Contact for All Your Gifting and Recognition Needs
For over 40 years, Riverside Printing has been helping businesses large and small take the work and frustration out of corporate gifts. Our selection, expertise, and attention to detail will ensure that whatever your goal might be, it will be met on time and within budget. Best of all, you will have one point of contact throughout the entire process. We'll be your partner, helping you strengthen customer and employee relationships during the holidays or throughout the year. Contact us today to learn more about how our innovative array of holiday, employee recognition, and corporate gifts can distinguish you from the competition.
Over 40 Years of Quality Printing Solutions